Bali Villa Bloom in Lovina, North Bali has the perfect infinity pool for your vacation. The view is breathtaking. From here, you can see the forest, beach, and the ocean. There are also many infinity pool activities for you to enjoy during your vacation. Here are some great examples.
Kids' slider
The infinity pool activities include a kids' slider. Your children will love it! The slider is both fun and safe. Check out this blog post to learn more about all the fun activities for kids at our villa.
Diving or casual swimming
The infinity pool offers excellent opportunities for some diving. Improve your diving skills, or demonstrate how good you are – the infinity pool is the perfect place for it! If you simply prefer to stay in the water and flow – that's perfectly fine as well! While inside the infinity pool, you will have a unique view as if the pool is endless and connected to the sea.
Watching the view
As we mentioned earlier, the view is amazing. Whenever you look, you will discover the colors blue, white, and green. Our villa is a retreat about Lovina, and you can see pretty much everything from up here! There are great opportunities for taking some beautiful pictures to share with your family and friends after you come back.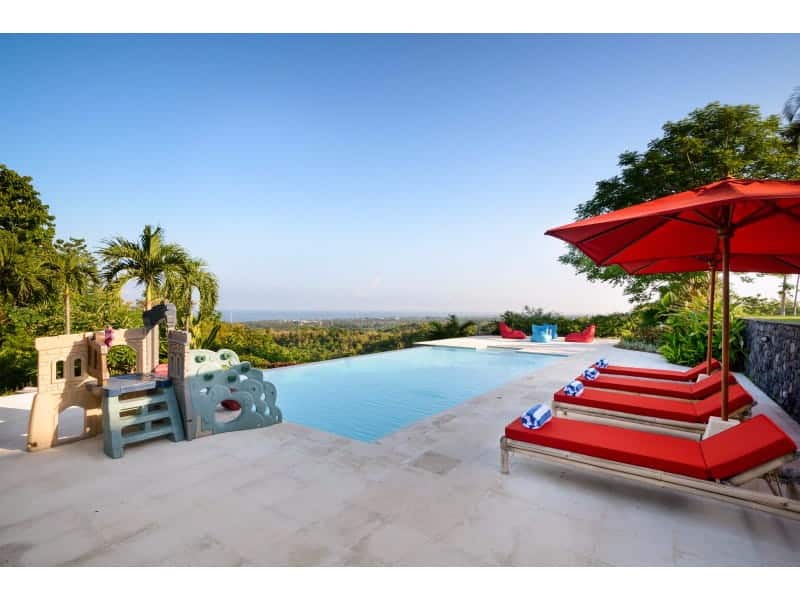 Reading next to the pool
What's more relaxing than taking a good book and lying next to the pool? You can read all you like. The infinity pool is large, so if someone wants to go for a swim or dive in the meanwhile, they won't spray any water on you.
BBQ and drinking
You are going to love our villa's special sunset BBQ. Imagine this – having a nice, cool drink while the sun kisses the sea; the kids are playing in the garden and the pool reflects the golden sunlight. At Bali Villa Bloom, we can make this a reality.

Other infinity pool activities to do in the meanwhile
You can also practice yoga, get a nice and relaxing massage, or participate in traditional Balinese dance. Our infinity pool has something to offer for everyone – even if they do not like swimming! Whether you are enjoying the beautiful sights, diving, having a BBQ or reading a book by the pool, you will never get bored!
Bali Villa Bloom is the right choice for your family vacation in Indonesia. We can offer everything you need for an amazing adventure. Our menu has something tasty for everyone, and the children will never get bored. Our prices are affordable for any family budget. From our villa, you can partake in different adventures across North Bali every day. Concact us if you have any questions.